Bridging the Gap between Office and Field workers in horticulture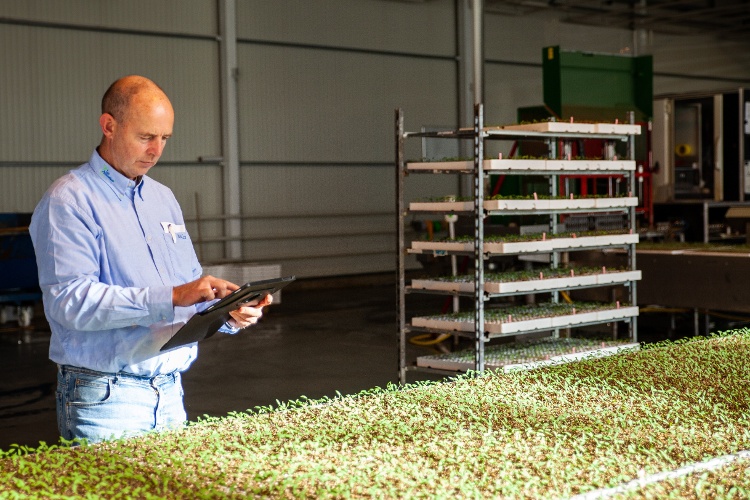 Information technology has contributed a lot to the development of many industries and the horticultural sector is not an exception. Technology changed the way people work and how processes are supported.
Memories: assigning tasks
Let me take you back to a different time, years ago, when my siblings and I used to work with my father on his corn farm in the Western part of Ghana. I still remember what our tasks were, as 'farm assistants' to my father: sowing corn seeds, scouting the field for pests and diseases and harvesting the corn cobs.
My father had a smart traditional method to assign a task to us. He used a stone covered with a coloured piece of cloth and he would throw the stone to mark the area that we needed to work. This approach may seem startling to you, my dear reader, but it was a common method among smallholder farmers in the community.
We had to record the results of the task assigned to us with a slate board and white chalk. We would receive a reward in the form of money and locally manufactured cookies from my father after he had collected all our slate boards and put the results together at the back of one of the slates. It always fascinates me to see that all these crop production-related activities can now be performed easily with software applications.
ERP software usage scenario in Horticulture
Presently, there are a lot of software applications that can be used to execute the activities highlighted in the previous paragraphs. Most of these applications help in production planning and the management of the production process.
ERP software is an example of integrated business software that supports these business processes. However, most of the ERP applications support middle managers at enterprise management level, excluding supervisors and field workers. This makes it difficult for supervisors and field workers to manage their operational activities efficiently, even though in most of the horticultural sectors the majority of the employees work on the shop floor or field.
To support the operational activities on the field, most of the organizations in the horticultural sector use software applications that can be used easily on mobile phones and tablets.
Role of mobile applications in supporting field processes
There are many field activities that can nowadays be supported by mobile applications. For instance, having a mobile application would have made it easier for my father to assign tasks to my siblings and me. It would also have been easier for us to register the result and share it with my father within a few clicks.
In addition to this, we could have planned our field activities in a more organized way with mobile applications. This would have helped saving resources such as labour, raw materials and machinery.
Mobile applications used by field workers
A mobile application can also be used by field workers to perform production-related inspections such as yield, quality and plant health. Some mobile applications can help field workers to perform crop treatment tasks such as registering chemical application consumption by plants and providing alerts on when to apply the next chemicals.
Besides that, there are interesting field scouting activities such as registering newly discovered varieties, scouting for the presence of pests and diseases and general field observations such as plant damages that can also be supported with mobile applications. Apart from all this, a mobile app can support more practical processes like managing the time spent in the field.
The gap between office and field workers
Despite the flexibility associated with modern ERP packages it is still not possible to support different business roles. To manage this, some companies use a separate mobile application to help manage the operational activities on the field and an ERP-application to manage the high-level planning processes.
Having separate applications for different business roles seems to work quite well in some scenarios but it also has a huge risk especially for bigger companies where there are hundreds of processes and employees. Having separate applications makes it difficult to share data between them, creating a gap between office managers and field workers.
Office managers can't create and delegate a task to field employees with simple clicks. The supervisors on the field will still have to register their results on paper forms or labels. From my perspective, this is very little progress compared to the story I told you in the first two paragraphs.
Integrations between ERP and Mobile applications
Some software providers have moved a step further to see how they can provide an ERP application integrated with mobile applications. With such a complete application it is easy for field workers to execute their operational activities on mobile devices and share the results with the office managers using the ERP application.
For example, an activity could be planned in the ERP application, sent to the mobile application and the results after execution can be registered in the mobile application which will be sent back immediately to the ERP. Another scenario is where the time management for a specific production process can be managed in the ERP whilst field employees register the time spent on activities in the mobile application. Any ad hoc activity can also be created in the mobile application and the results can also be sent to the ERP, just using one system.
What we provide for the Horticulture Sector
Mprise Agriware is a typical example of such a fully packaged application where users can utilize an ERP application to perform functional tasks like planning and sourcing, production management, and post-harvest activities. It provides the flexibility to enter, store and retrieve data at ease.
The system connects and provides an update to the different parties in the supply chain network. This allows users to track all volumes of products, materials etc. moving through their network. Also, there is a smooth integration with operational solutions that can be used easily on mobile phones and tablets. There is direct system-to-system communication with field apps such as Agriware Inspect and the Agriware Time App, to share information from the field easily.
For instance, Agriware Inspect is a location-based application which can be used to record all observations on the field. The inspection forms are based on self-defined templates. Data, pictures and videos can be captured, stored and reused for future decision making. The mobile application can give specific advice to improve yield and crop quality. Modern ERP systems such as Mprise Agriware and the field apps are of great value when it comes to bridging the gap between office managers and field workers.
Do you want to learn more about this? Download the flyer!