As a producer of rooted and unrooted cuttings it's crucial to manage the specific business processes for these two product forms till the smallest details. It's not only about the management of motherstock plants in foreign or inland production facilities but also about the tuning between planned sales forecast, actual sales orders and the potential (un)rooted cutting production plan.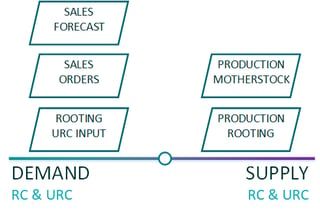 Because all company processes are supported in the Agriware ERP software, it's possible to work without complex interfaces and integration points within a single business system. Therefor, information is always up to date and available for anyone so decisions can be taken quicker and well weighted.
On this page you can read what we can offer your organisation or just send us a request for more information with the next button.