Power BI for Dynamics
PB-1
Microsoft Power BI offers many opportunities for greater insights, such as through a dashboard. In this training you will learn about the possibilities of Power BI and how to retrieve Dynamics data from Power BI. Naturally, you will receive practical tips and tricks.
To registration
Download Course schedule
Application
Dynamics 365 FO
Dynamics 365 BC
Dynamics AX2012
Dynamics NAV2018
Power Platform
Agriware

Duration
1 day
Location
Veenendaal
Course format
In class
Customer-specific

Price
€550,-


Mail naar collega
Target group
This training is intended for anyone who wants to know more about or get started with Power BI. Especially for those who want to use data from Microsoft Dynamics (also).
Description
Your Dynamics application and other software contain a wealth of business data. With greater insight into this data, you have the ability to better (re)manage.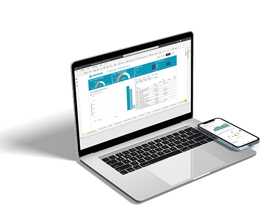 Preliminary Knowledge
No specific knowledge is required to attend this course. Some experience with data and visualizing it, such as creating charts in Excel is an advantage.
"Calm, good listening and skilled Power BI trainer"
J.H. Schuurman ? Metaalwarenfabriek Umefa
-
"Very clear and structured"
M. Ossendorp-Vredenbregt ? Big Bazar