Agriware Competence Center
The Agriware Knowledge Hub
Learn to use Agriware 365 as a grower
Those who want to innovate must continue to learn. In other words, train yourself and others to make the best of the possibilities of your business software. Investing in knowledge is investing in yourself! It makes your business more efficient and saves you a lot of time.
Learn how to use and set up the Agriware applications.

Available worldwide, 24/7

No competence level is needed

Standard & customized programs available
Get free trial access to our learning solutions.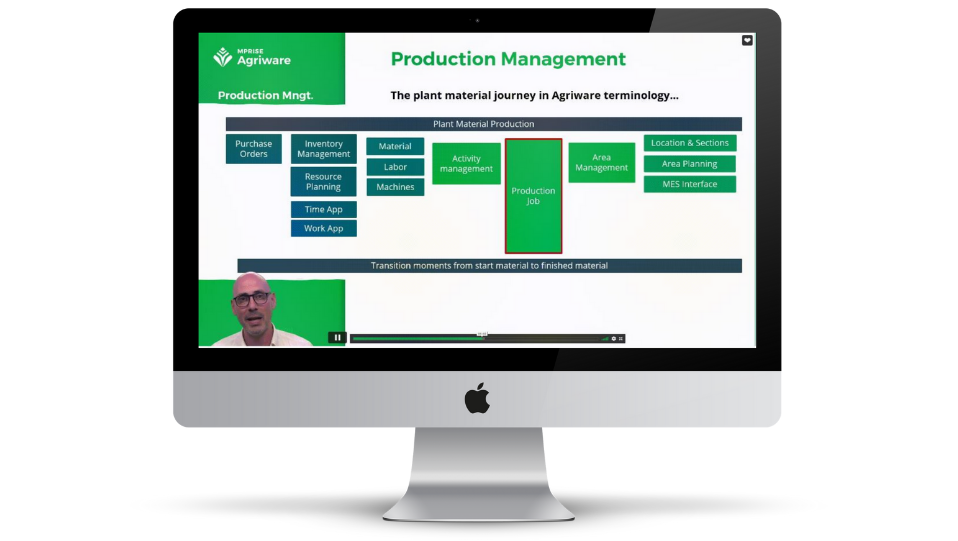 ---
We are here to make your business processes more effective and efficient
Find out more about our approach
Read more
How does it fit your organisation?
standard programs
The standard learning content is based on generic horticulture business processes which can be applied on many business types.
Practical content will help your employees step-by-step how to use and set up the system.
Every learning solution will come with the following content:
Module based e-learning program
Video tutorials & Modern content
Assignments to practice
Preset training company
customized programs
Train your people with your own business data and processes. These tailored programs will pay specific attention on the training of your people and business scenario's.
Specific content will help your employees with company examples how to use and set up the system.
The customized programs will come with the following content:
Tailored company e-learning program
Specific video tutorials & content
Specific assignments to train & practice your business scenario's
---
Step-by-step and on your own pace
video tutorials & practical assignments
The learning solutions are based on the latest version of Agriware 365 and will continuedly be updated. The online learning system is build of small modules per topic. This will help the students to focus and complete the courses step-by-step and on their own pace. The Agriware learning solutions are e-learning based services which focus on training people with different roles and experience levels within in your organization.

Tutorial course content
With multiples modules you can move through the content at your own pace. All of the content is 'video tutorial' based to explain the why & how details of the Agriware products.

Modulair structure
The course is module based build. 'how-to' tutorials to work with the system and how to set up the details. Every module will be closed with an practical assignment.

Track Progress
It keeps track of the progress so the user can see which modules and content are already done. As an result of the module closure, there will be grades per module to monitor the individual results.
Mprise Academy
Get more generic training about Microsoft Dynamics. Dive into the possibilities of software for growers to get the most out of your day.
Microsoft Dynamics training