Hybrid multiplication
Producing hybrid seed is one of the core processes of seed multipliers. By carrying out crossings and selections and managing the father and mother lines, you have built up a lot of specialist knowledge. With
Agriware365, your users can register the specific knowledge for hybrid multiplication in a structured way. This allows your users to plan, register and analyze the seed production of all types of crops.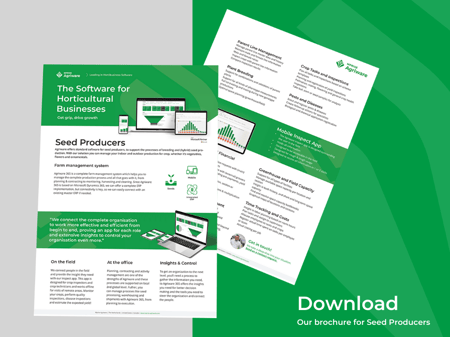 Download Quick Read Seed & Breeding
All types of floriculture crops can be planned and managed with Agriware365 seed multiplication software. With the Agriware Inspect App, crop specialists and field inspectors have all information available from a mobile device directly in the field or in the greenhouse.
Planning, registration & analysis of the multiplication process
The expected seed yield is calculated based on many factors, such as the mother/father combination, the variety and product location. Every action, operation and inspection can be planned by the user prior to cultivation or can be added ad hoc to a production lot during cultivation. This allows the people in the field or in the greenhouse to efficiently request information, update it and add new data or images, throughout the entire life cycle of the crop. All data is stored centrally. Users can now make analyses using relevant KPI's.
With Agriware365, traceability can be made visible for the entire chain. Each seed batch can be traced back to the correct mother/father combination, where the seed was produced, who harvested it and which tests were performed.
Specific registrations for seeds, such as moisture, and thousand grain weight, production location, and others can be recorded in Agriware.
Production contracts & settlement
We understand that managing production contracts with subsidiaries and/or external growers must be handled with care. For this reason, after rough cleaning, the harvest must be accurately registered.

These steps are accurately documented in Agriware365 to a production batch. This makes the entire chain traceable and you can retrospectively see what has happened.
Inspections

As a crop manager or field inspector you want to have all relevant crop information at your disposal in the field, in the greenhouse or on the road. With the Agriware Inspect App you are able to have this data at hand on a mobile device such as a tablet or smartphone. The app also works offline so you can always continue working. This means you are always able to update crop information and register results directly in the field.

By working with a central system instead of paper or individual Excel files, data is processed faster with a reduced chance of typing errors. Moreover, all colleagues work with the same system so that decisions can be made based on up-to-date information.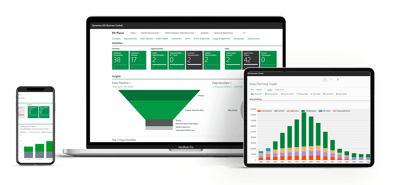 Schedule an online meeting with one of our experts, to get to know the new ways to deal with software in greenhouses.