Agriware 365 Operations
Innovative Apps for Growers
Do you want to register information of the crops in the greenhouse? And do you want to synchronize this information with the office?
We can help you, please read more about our apps below.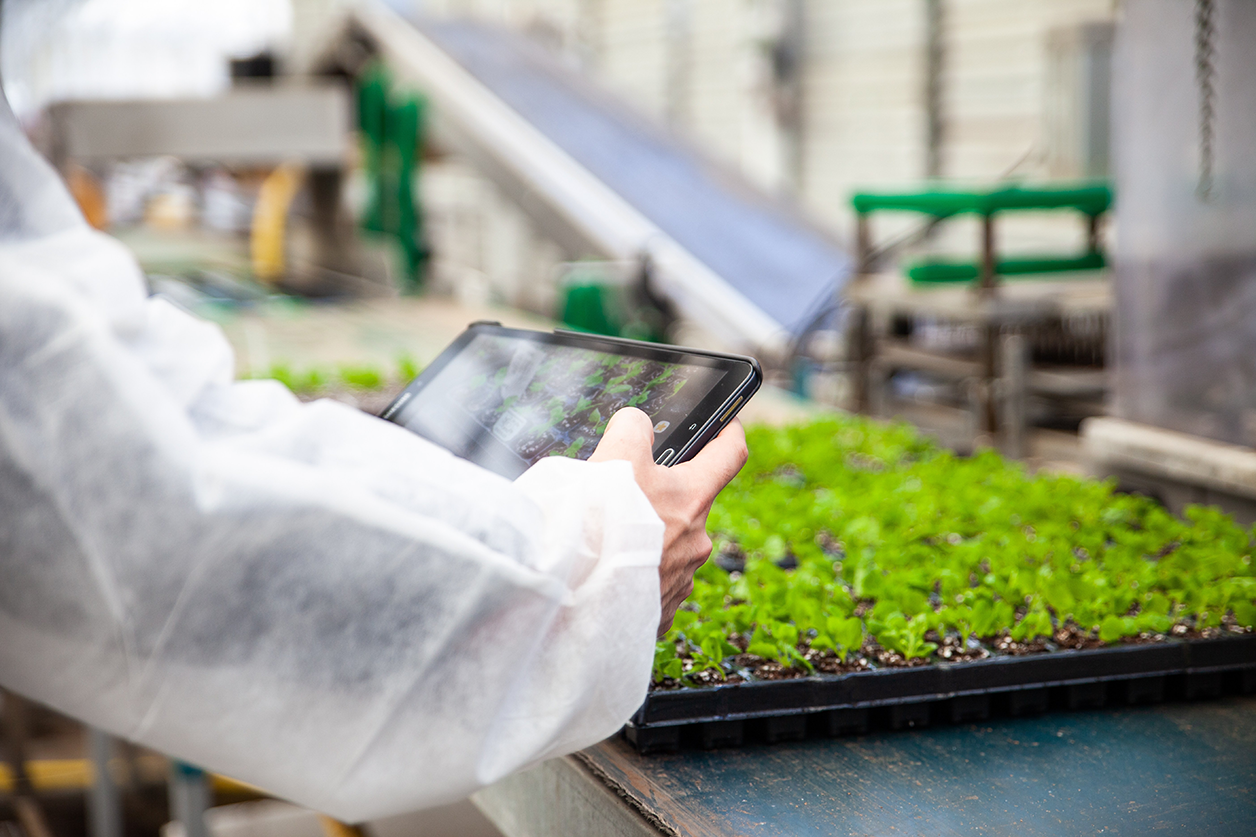 Apps at the workplace
There is a clear tendency for functionality that was traditionally embedded within business software such as Agriware 365 (ERP) to be made available independently to people whose work is largely in the greenhouses, in the sheds or in the open fields.
Mprise Agriware has acknowledged this trend and put together a special team for developing these mobile software programs (apps). The following apps are now available for you to use:
The Agriware Inspect App
The Agriware Time App
Agriware Inspect app
The app is made for breeders, seed producers and growers. Your challenges are at the core of our solutions 
Provide your

 

workforce

 

in the field or greenhouse

 

with

 

up to date information

 

from

 

Agriware

 .

Scout new crop varieties with the mobile app and share your observations. 

Carry out inspections

 

to

capture

growth

results and adjust planning.
The Inspect app provide your workforce in the field or greenhouse with up to date information from Agriware 365 [ERP]. The results of observations and inspections will synchronize with the ERP. The app has its own database because a lot of data has to be recorded in it, such as photos, videos and sensor data that you would prefer not to store in the Agriware ERP database. The frequency of synchronization between the databases can be set by the user.
The Inspect app is used for carrying out observations and inspections. It is also possible to work offline, given that there is not always an Internet connection when working in the production fields.
Do you want to know more about the Inspect app? Please download the factsheet below.
The app can be used for:
Retrieving crop information
Sex, variety, characteristics
Duration of cultivation, growth phase and use of space
Planned and unplanned cultivation activities and to-do lists
Recording crop information
Adding photos and videos of a crop
Adjusting the cultivation duration and results
Adding instructions for a crop such as: crop treatment, crop protection actions and crop inspections
Recording scouting results
Recording numbers of plants sown or potted
Recording germination counts and adjusting batches
Recording losses during cultivation
Recording crops being moved per department, bay (sub section), path or pole
Recording potting results
Notification that a crop is entirely or partly sellable (available for sale)
Because Agriware Inspect is also used by seed producers, specific functionalities have also been added for that user group, such as:
Details of male and female parental lines
Propagation of young plants (male + female) and plants in fields
Checking crops, flowering and pollination, using:
Flowering Inspection, Pollination Inspection and Nicking Inspection
Detailing and updating planned seed yields in percentages or kilograms using a 'Yield Update'
Scouting and recording diseases and planning crop treatments
Agriware Time app
Labor is expensive. At many horticultural companies, the labor element in the cost price is more than 25%. Keeping control of the planning, registration and analysis of labor is therefore essential for the success of the business.

Mprise Agriware® offers a complete system that handles both time registration (clocking on and off) and timesheet recording. This lets horticultural companies manage their labor, both operationally and financially.
Time registration
Clocking on and off is already handled at many horticultural companies by a clocking system. This type of system is often not linked to other systems. Sometimes there are options for carrying out actions manually, such as e.g. exporting to Excel for checking the invoices of temporary staffing agencies or for carrying out cost calculations.
Mprise Agriware offers integrated time recording (attendance records) that registers the details for each employee in a daily log. This means that there is always a clear picture of the planned and actual attendance (starting time, finishing time and breaks) and that corrections can easily be applied. Matching up invoices and linking them to the labor costs is possible here too. In addition, the time registration (attendance records) can be extended to include records of the tasks done.

The Agriware Time App includes:
Checking the rules on attendance and breaks (fixed starting and ending times)
Recording actual attendance times and breaks
Checking the hours per employee per day (daily log)
Work registration
In addition to noting the clocking-on and clocking-off times, it is important to retain a clear picture of the productivity of employees. Getting staff to record the times per activity or work instruction gives you insights into which productive tasks have been carried out and how much time has not been used productively. In the Agriware Time App, you can associate the activities and work orders with particular batches. This allows the labor costs to be directly assigned to specific products. This can be done on the basis of a specific location (all products grown in a specific bay) or on the basis of a work order that is linked directly to one or several specific products. This makes it possible to use the Time App to compare the planned labor costs per product against the actual labor costs.
The Agriware Time App includes:
Work registration per activity/location (department, bay (sub section), path, pole)
Work registration per work order (planned work)
Checks on time spent per activity or work order
Assign labor costs directly to batches