Agriware 365 Business Central
Horticulture management software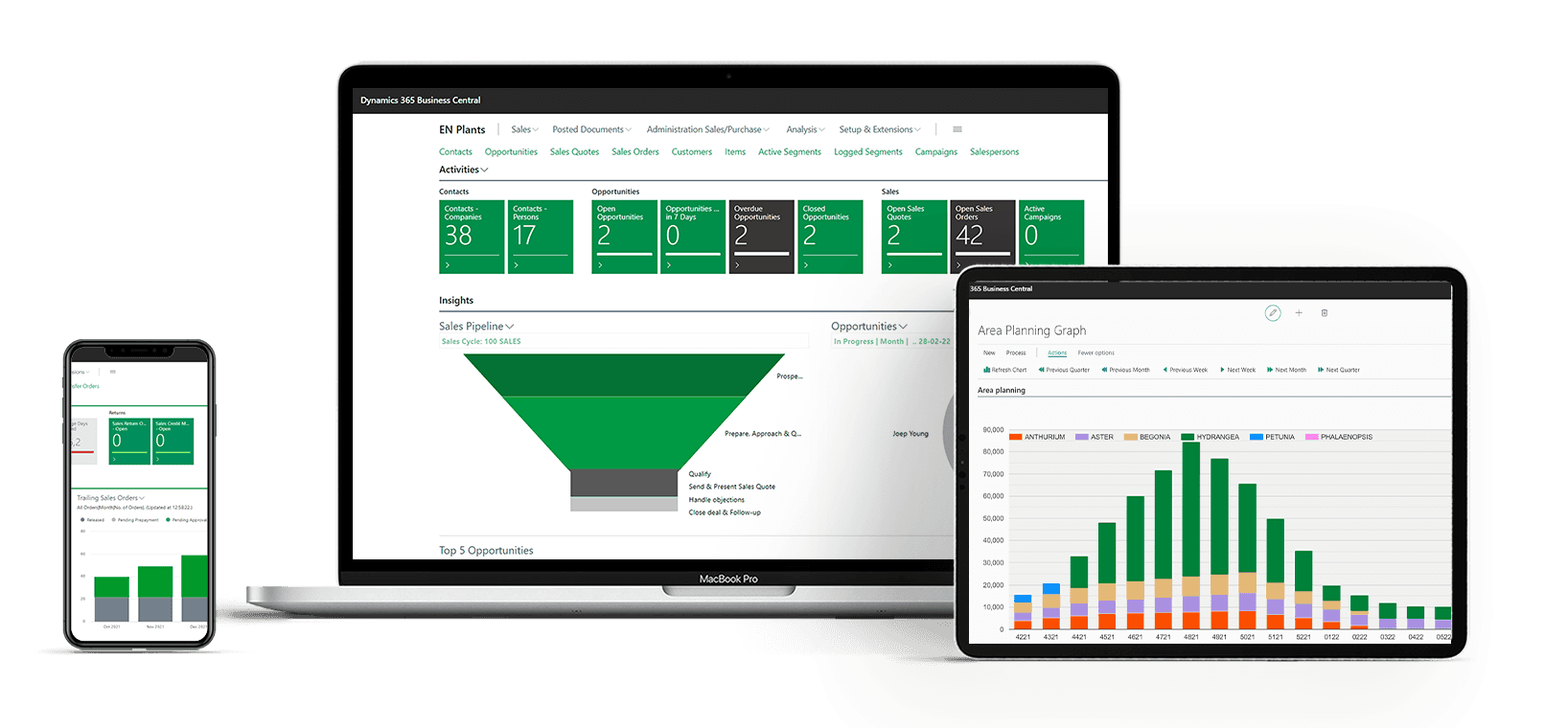 Get an overview of your greenhouse with software
Agriware 365 is a suite of software modules that support the business processes of large-scale greenhouses. The modules range from production and sales to the finances and associated aspects. This makes your company manageable and transparent, laying the foundations for greater efficiency.
Do you want more information? Download the flyer or find more information below.
Agriware 365 | Get grip, drive growth!
With our integrated software platform Agriware 365, we ensure that our customers stay ahead in the ever-changing digitalization landscape and maximize their overall success. We are proud of that!

Standard software, but we do this personal and committed
Mprise wants to be meaningful and deliver long term value to horticultural companies worldwide with the deployment of company-wide ERP software. Our software gives grip and the right insights to make data-driven choices.
Diagram of the Agriware structure
The batches (jobs) are usually created from the forecast and have all the data required for cultivation. A batch with cultivation activities consists of an item, properties, cultivation schedule and batch template.

During cultivation, the activities are recorded for the batch. This makes it possible to view the current status of cultivation at any moment and compare it against the original planning. The batch (job) provides the inputs needed for setting up the space planning and for the planned levels of stocks available for sale.
Do you like to see more of the software? Request a demo to see how Agriware 365 works.
---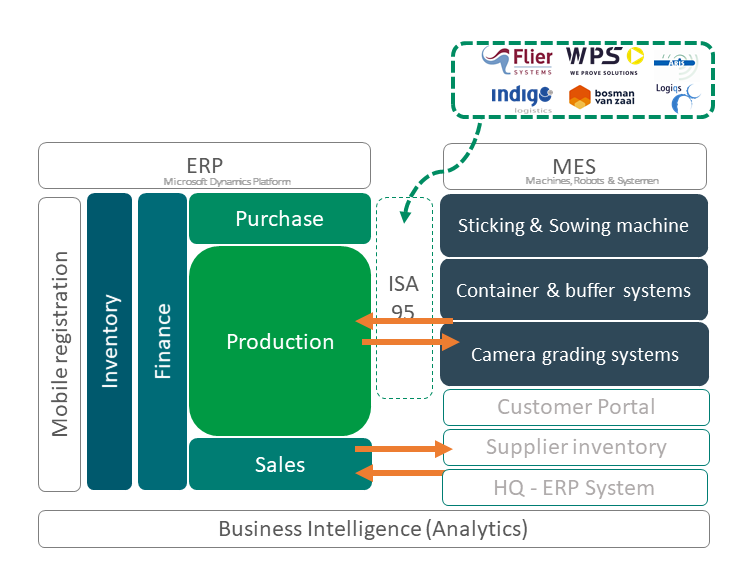 Agriware 365 Greenhouse management software gives insights, to be decisive. ERP Software for Greenhouses & Nurseries.
Download quick read (3min)
Typical challenges for horticulture companies
The software gives you answers to the following questions.
Production and Planning
Forecast planning, cultivation schedules, batch templates, work orders, etc.
What has to be done this week and what do I need?
How many people do I need to pot all the batches?
Which pots and other materials do I need?
Am I making optimum use of my space?
Will I run out of space at some point if I want to produce batches in this way?
Can I shift batch schedules around in order to make better use of my space?
What happened to this plant?
Have the planned actions been completed and performed according to the schedule?
Have there been more or fewer rejects than I expected?
Do I have to change my production plan for next year?
Sales & contracts
Florecom orders, electronic delivery forms, Image Auctioning, supply lists, customer preferences, etc.
Can I accept this order NOW?
How many plants can I sell now and how much of my stock do I expect to be available for sale in the long term?
Do I already have outstanding long-term orders?
What's an easy way of sharing my stock with the world?
How can I send my lists of what's available to different webshops from a single location?
How do I stay in control of what supplies I make available where? And to whom?
How do I deliver my orders exactly according to specifications?
How can I record the customer agreements properly?
How do I apply customer specifications to orders?
Can I have the customer specifications shown clearly on the packing slips?
Financial
Chart of accounts, VAT returns, opening balance, journal transactions, etc.
What plants make me the most money?
What are the costs per batch?
How much money has a batch made?
How do the costs per batch break down?
Am I selling the right product range?
Who are my best customers?
Who do I sell the most plants to?
Which customer generates the most revenue?
Who pays what average price for my plants?
Agriware Connectors
Agriware has a number of connectors that link to external systems such as webshops, mobile apps or machines. They can be used to exchange data such as stock levels, locations, bookings against stocks, or order and delivery details.
Mobile Connectors
Agriware offers a connector for external apps from third parties. These could for instance be apps that have already been custom-made and that need to be able to 'talk' to Agriware e.g. for handling work orders or for carrying out inspections.

In addition to this connector, it is also possible to use a MobileNAV mobile app, for which Mprise Agriware has various templates available. Using MobileNAV allows business processes to be made specifically to meet the requirements from the work floor. This can for instance include:
Scanning in transport and movement activities
Insights into the crop data
Crop inspections
Creating tasks
Adding photos

Logistics Connectors
Connector for Indigo Logistics ISAL or WPS software for container bench system, camera sorting or delivery systems
Logistics Connectors
For connecting to a logistics system at a grower's, a standardized connector is available for exchanging data with container bench system, delivery systems and camera sorting systems.

This connector allows logistics systems to be supplied with data from Agriware and vice versa. This could for instance include:
Batch data with production schedules.
Stock movements in containers.
Sorting using camera systems.
Sales order details for dispatching systems.
Systems from the following suppliers are currently supported using the Platform ISA95 protocol:
Other suppliers are also working on support for the ISA95 protocol so that data can be exchanged easily in a standardized format.
Webshop Connectors
Agriware provides the capability to exchange master data, stock levels, special offers and orders with webshops. To that end, the connector makes a number of web services available that let the webshop talk to it so that the stock levels are shared with the shop and orders from the webshop are automatically created in Agriware.
Agriware E-Business
The E-business module contains functionality that is indispensable for growers of cut flowers, particularly in the Netherlands: functionality for handling various aspects over the Internet.
See the video:
The two key components of this module are:
Support for the

Electronic Delivery Form, which is used for digital traffic with the auction house.
Support for

Florecom messages

and

Digital Supply Lists.
The Digital Supply Lists module makes it possible to manage and send supply lists from a central point. Shipments can be made to multiple supply channels and different client groups with as few actions as possible. Supply lists can be generated from supply templates.

When a customer in a webshop orders a product from the supply list, it comes in as a Florecom order. After accepting the Florecom order, one press of a button can (if so desired) update the current outstanding quantities. This ensures that what is on offer is always up to date and prevents you from having to tell someone 'no'.

Important information:
Managing the supply per week or period, per customer or per customer group.
The format of the price list can be adapted to match your branding; it is possible to manage multiple layouts in templates.
Automatically generate unique item numbers for growers.
Support for the Floricode QUOTE protocol for sending lists of what is on offer.
The FloraXchange webshop is supported by default.
Expandable with PlantConnect/MatchOnline (based on Floricode QUOTE).
Expandable with a connector for your own webshop.
Picture of the available offerings per webshop.
Integration of Florecom orders and sales order (update the supply lists manually or automatically).