Greenhouse Management Software
Agriware 365 Business Central
Agriware 365 for Microsoft Business Central
Agriware 365 Business Central is a collection of apps for Dynamics 365 Business Central, providing a solid foundation for any horticultural company dealing with living materials.
15+ Years of experience is captured in this generic and flexible software solution, which helps you tackle labor management, space planning, and production planning challenges.
As you would expect from a tailored business solution, sourcing, warehouse management, sales & finance processes are fully supported.
Agriware 365 unifies data across your organization, connecting your people with continuous insights, to adapt to everyday changes.
Download quick overview (5 min) Optimize operational efficiency based on Microsoft Dynamics
Connectivity
Using Microsoft technology, Agriware 365 is open to all kind of integrations. Next to our out of the box connectors, custom integrations can easily be realized. Typical integration we do:
• MES systems (automated greenhouses)
• EDI interfaces with suppliers and customers
• Master-ERP <> Farm management
• Transport Management System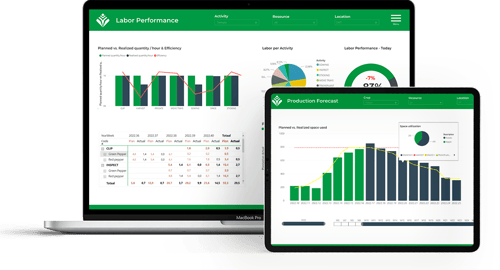 Key Features
• Sales & Production Forecasting
• Production Planning and registration
• Plant, Tray and Lot Tracking
• Item Availability
• Labor planning
• Space planning
• Job Costing
• Quality control
• Work floor scheduling and registration
• Time registration and export to payroll system
• Container administration
• Load optimization
• Picking, Packing & Shipping
• Contract management outsourced production
• Produce to Order, Produce to Stock
Typical challenges for horticulture companies
The software gives you answers to the following questions.
Production and Planning
10 Ways: Forecast planning, cultivation schedules, batch templates, work orders, etc.
What can I do to optimize my work planning?
What are the best ways to organize my labor?
What (pot) materials do I need?
Is my space being utilized to its full potential?
If I produce batches this way, will I run out of space eventually?
Is it possible to reschedule batch schedules so that I can make better use of my space?
What's the history of this plant?
Is the schedule being followed and have the planned actions been completed?
Did I expect more or fewer rejections?
Should I change my production plan for next year?
Sales & contracts
Florecom orders, electronic delivery forms, Image Auctioning, supply lists, customer preferences, etc.
Is this order available for immediate acceptance?
In the long run, how much of my stock can I expect to be available for sale?
Is there already an outstanding long-term order on my account?
How can I share my stock easily?
Using a single location, how can I send my lists of products to different webshops?
Can I keep track of what supplies I make available where and to whom?
My orders must be delivered exactly according to the specifications. How can I do that?
What is the best way to record customer agreements?
On orders, how do I apply customer specifications?
Do the packing slips need to show customer specifications?
Financial
Chart of accounts, VAT returns, opening balance, journal transactions, etc.
Which plants are the most profitable for me?
How much does each batch cost?
What is the total profit of a batch?
What is the breakdown of costs per batch?
What product range should I sell?
What are my best customers?
What are my top customers?
What customer generates the most revenue?
My plants are sold to whom at what average price?
Space Planning
Labour Planning
With our experts and smart software, we anticipate the rapidly changing world. We are driven by progress. Our experts bring a refreshing touch with inspiring, decisive solutions to every organization.
Standard software, but we do this personal and committed
Mprise wants to be meaningful and deliver long term value to horticultural companies worldwide with the deployment of company-wide ERP software. Our software gives grip and the right insights to make data-driven choices.
From breeding to growing, we cover it all